Sell Anywhere on the Ramp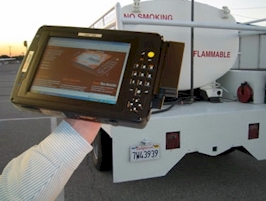 Coupled with software enhancements from MyFBO.com, the latest crop of hand-held devices are smart enough to do your business on the ramp.
Properly equipped PDA's can now identify customers by tail number (with FAA database lookup if needed), record fuel meter readings, calculate fuel costs, charge for ramp services, swipe credit cards for online processing, capture the customer signatures, and print receipts. This is the way to offer a really quick turn.
The latest "MyFBO.com Mobile" features require our Advanced Edition as well as a Mobile device*. A cellular data plan is required to link your Smart phone / PDA to the online system.
Features and Benefits:
Off-The-Shelf Hardware – Tablet PC or PDA
Swipe and Process Credit Cards*
Captures Client's Signature†
No Network to Install - Uses Existing Cellular Infrastructure
Sell Fuel, Oil, Services
Enable Quick Turns
Labor Saving
Increase Accuracy
Low Cost
Works with Veeder-Root EMR3 by TMS Automation Systems
*To process credit cards, a merchant account and MyFBO.com compatible gateway are required.
†For signature capture in the office, a Topaz signature capture pad is required. For signature capture via Tablet PC, special control software is required for each PC used at a cost of $100 each. For PDAs, a Microsoft® Windows™ device with a touch screen is required. Also, only certain devices fit within the credit card sleds.